Amelia, a short haired tortoiseshell, AL-103R-07, is very sweet and loving, Likes to Play Play Play!!! She is good with other cats! She is a Domestic Short Hair Tortoiseshell born 2/27/07. Her sister is Camelia. They were adopted together as small kittens, but returned when the 'cute wore off'. Amelia and Camelia LOVE attention. They also love to be held and loved on all the time. It would be great to have them adopted together, but she would play well with any other cats. start the adoption process
---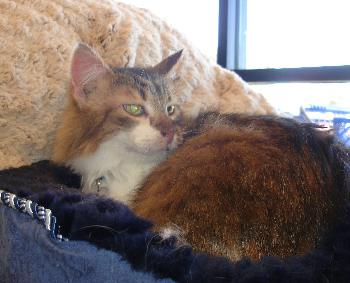 Andrew, KH-101-08, is a sweet boy who is also very beautiful. He is a Maine Coon/Tabby mix born approx. 12/16/99, that was rescued in Lewisville where we discovered that Andrew is terribly afraid of men. They make him very nervous – guess he doesn't like the competition. He does not like to be around too many cats and needs to be in a calm environment with only sweet kitties – no pouncing playful or commando kitties, and where there are no men living in the home. When service men or male visitors have to be in the house he needs to be relocated to a separate room. Andrew is a very loving kitty who loves to be held, and cuddled, and have his neck massaged. He will sometimes drool when he gets excited from being loved on. He is a head butter and will come up and butt you until you pick him up and love on him. He is nervous sometimes, so he needs a very patient, calm loving best friend.
start the adoption process
---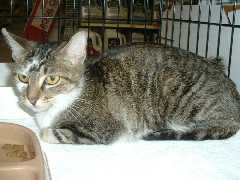 April, SG-119R-04, is a sweet, but shy tabby w/white markings that was adopted as a very young kitten. The new owners kept her until she 'wore off her cute,' then they just ignored her and moved on to another cute cat. Cat Matchers took her back in to their foster system. She is very lovable once she settles in and loves other cats. April just doesn't like the adoption events very well, so she hasn't been adopted. If you are looking for a quiet cat and you have a bit of 'cat whisperer' in you, then April would love to meet you. DOB approx. 3/5/04.
start the adoption process
---
start the adoption process
---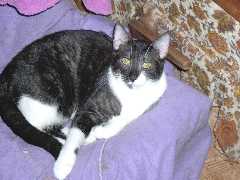 My name is baby hughey, a male Oriental with a smoke tabby/white coat, LW-110-04, and I was born on 7/28/04 . I'm just a LOVE BUG !! I like to be held and cuddled. Just and all around GOOD BOY !! I do give LOVE nibbles, but I do not mean to hurt. I live with my sisters Bettie and Cyndi. As well as the other foster cats that live at our house. I like them all and I even like our Dog Heather. I have to clean her every time she comes in from the outside, never know what she has been doing out there in the EVIL outside ya know.
start the adoption process
---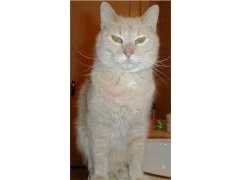 Buffy, a short haired buff tabby, DBR-3Y, is a sweet and lovable cat that was adopted as a kitten, but returned years later when she started having 'accidents' with the litter box. The previous owners did not take her to the vet to find out if she had any problems, and did not want to deal with it. Cat Matchers had their vets look her over and test her and found out she has mild kidney disease. Now that she has been diagnosed, treated and is eating a special diet, she doesn't have 'accidents' any more. DOB: 5/1/99
start the adoption process
---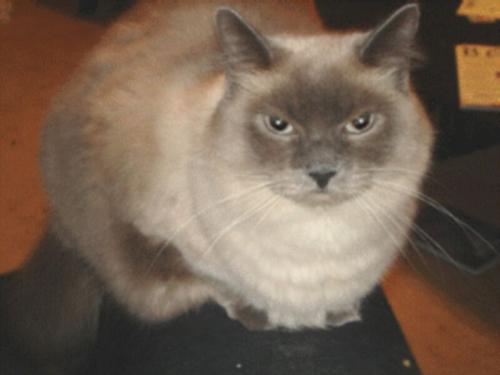 April, DB-126R-06, a beautiful DECLAWED Himalayan mix, was given up because her human daddy suffered grave medical issues and could no longer care for her. She's beautiful and she knows it. Very affectionate-loves attention. DOB 2/27/02.
start the adoption process
---
Ashley, FB-107-07, is a beautiful short haired black cat with a DOB of 8/29/07. Get out the feather toy, this little girl is going to entertain you!! She'll play for hours and then she'll come and sit beside you while she purrs up a storm. She loves to play with her brother, Taylor – or anything else that stands still for a second or two. She's looking for love. Are you available?
start the adoption process
---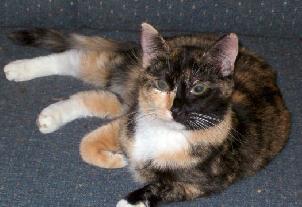 Catra, T-KH101-04, is a beautiful and sweet short haired calico. She gets along well with other cats. She was abandoned at an apartment complex, when her owners moved. She was taken into foster care and is now just waiting for a new permanent loving home where the owners won't leave her behind when their lives change. DOB approx. 6/14/04.
start the adoption process
---
Cookie, SF-155-07, is a cute black/white Domestic Short Hair. She is a spunky little girl who loves to play and be held. DOB: 10/31/07. Good with other cats and people. May be a tad bit shy for the first day or so, but then she'll be right on your lap seeking attention. Can she go with you? Can't you see she's waving at you? She's trying to say 'Pick me. Pick me.
start the adoption process
---
Bebe, a short haired tortoiseshell, T-MR1-08, is a happenin' little girl. She loves to play and she'll play until she's pooped and then she'll take a quick nap. If you are there to love on her while she snoozes, she loves it. Very gentle. Very friendly. She always wants to be where you are and know what you are doing. DOB: 9/26/07. She would love to be the headliner at your house 'cause she's a take-charge kind of gal!
start the adoption process
---
start the adoption process
---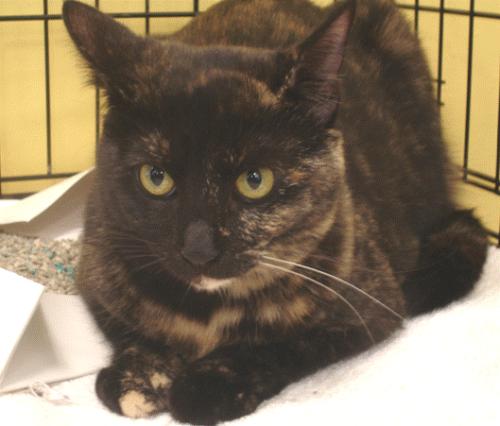 Camelia, a short haired tortoiseshell, AL-104R-07, is very sweet and loving; she ikes to Play Play Play!!! She is good with other cats, Born 2/27/07, Sister is Amelia. They were adopted together as small kittens, but returned when the 'cute wore off'. Amelia and Camelia LOVE attention. They also love to be held and loved on all the time. It would be great to have them adopted together, but she would play well with any other cats.
start the adoption process
---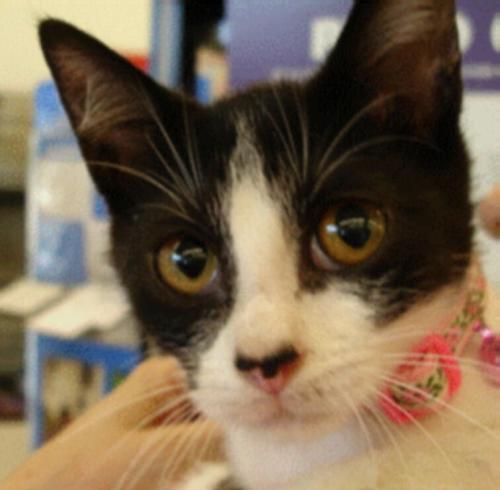 Darcy, SG-107-06, is a spunky little black and white girl who likes to be held and when she gets tired of that, all she wants to do is play. She is looking for some fun people to take up residence with. Can she come to your house? Other cats pick on her – so she may be best as an only. She is very loving. She doesn't do well at adoptions-so she is easily overlooked. She is also independent, DOB: 3/20/06
start the adoption process
---
start the adoption process
---
Crumbles, T-KH3-04, is playful, very cuddly, and likes belly rubs. He is good with other cats and is a little sky at first, but warms up quickly. He must sleep with you and will push away other cats to do so. Crumbles is a short haired black cat, DOB 9/17/2002. He is has been overlooked because he is black.
start the adoption process
---
DAPHNE, T-KH10-04, a medium haired dilute tortoiseshell cat, is a sweet cat that loves to hang out with other cats. She has been diagnosed with
Stomatitis
; she had to have teeth removed, and needs to eat soft food. She does occasionally need medicine for her mouth. Even with the pain that the Stomatitis causes, she stayed extremely lovable. DOB: 7/15/02
start the adoption process
---
Faith, SF-103R-07, is a long and lanky, beautiful black/white short haired cat. OB: 2/15/07. She has the body style much like an Abysinnian cat. "They call me Faith because I'm so faithful – I will love you within an inch of your life. If you'll sit still, I'll sit with you. If you want to play, I'll play with you. I'll share your joys, your hopes . . . your lunch! I'm very sweet and I don't mind anybody knowing it. I get along well with other cats if they get along with me. Now, all I need is a home. I was thinking that maybe yours would work. What do you think?"
start the adoption process
---
VIEW ALL CATS AND KITTENS AVAILABLE FOR ADOPTION
VIEW ALL CATS AND KITTENS WHO HAVE BEEN ADOPTED
This page has the following sub pages.